Greetings,
Even if we were to stop all poaching tomorrow, elephants would still be in danger of extinction. We live in a world of increasing human development which usually comes with habitat loss, fragmentation, and degradation, which causes elephants and other wildlife to lose their homes and forces them into direct contact with people as they search for food and water. This leads to human-wildlife conflict creating dangerous and sometimes deadly situations for both animals and humans. In order to protect and preserve elephants for generations to come we must find safe ways to preserve the habitat that remains and peacefully coexist. Without addressing how to share land with wildlife, the survival of elephants is in peril. This is why IEF supports multiple projects that address HEC with community-based solutions. This month's Conservation Chat features the leader of one such project.
The International Elephant Foundation is proud to have Dr. Ashok Ram as the featured guest for our March 9th Conservation Chat. Mr. Ram is a conservation officer, working under Department of National Parks and Wildlife Conservation (DNPWC) in Nepal with a PhD in Wildlife Science from Wildlife Institute of India. He also completed a PhD on elephant ecology on elephant habitat, population, occupancy and human elephant conflict. He has 20 years of experience as a conservation officer, 15 years working with elephants, and has published more than 40 articles in peer reviewed journals. Mr. Ram was appointed as a chief warden in the Parsa National Park, which has a residential elephant population of about 45 animals.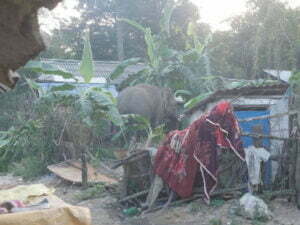 Your support has allowed IEF to fund Dr. Ram's work for multiple years. Nepal has a small but growing population of elephants who exist in increasingly human dominated landscapes. Using a community approach to increase conservation awareness and safety, Dr. Ram is making progress in improving the lives of Nepal's elephants and the people who live alongside them. We look forward to sharing his work and insights with you! Join Us!